Using books in centerpieces for weddings must be pretty popular, I had no problem finding images for this week's inspiration! What I love about using books is that the titles of the books can add sly commentary or talking points for your guests. The books themselves can also act as risers to allow for a variation in height amongst the different decorations.
Our collection of hardback books all have positive, romantic titles, in a variety of subtle colors. And the price can't be beat! Check them out here. If there is something you are looking for in particular, contact us!
image source: JL Designs
image source: Holly Chapple via Floret Cadet
image source: Inspired By This
image source: Inspired By This
image source: Emmaline Bride
image source: 2000 Dollar Bride
image source: Erin MacFarland Photography via Delicious Details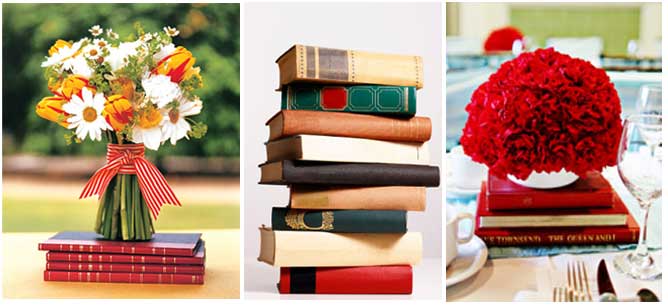 image source: Thoughtfully Simple
Each Tuesday Wednesday (this week! again!) I will be bringing you images from around the web that are focused on wedding and event decoration items you can rent from Ultrapom. I hope they demonstrate how Ultrapom can help you get the current trends for less!
– Carolyn