I am excited for this week's inspiration, as we just had our first event using our Venetian Style Murano Crystal Chandeliers! Chandeliers make such a huge impact in a space, as does most accent lighting, and can dress up a tent or barn quite elegantly.
Hanging chandeliers temporarily is actually a bit of an undertaking, so keep that in mind when planning. They are heavy and require a solid structure to hang from. Additionally, they don't ship very well, so our chandeliers are currently for rentals in Kansas City only.
image source: Style Me Pretty
image source: Louisville Wedding Blog
image source: Conversation with the Muses
image source: Style Me Pretty
image source: the Lane
image source: Beth Helmstetter Events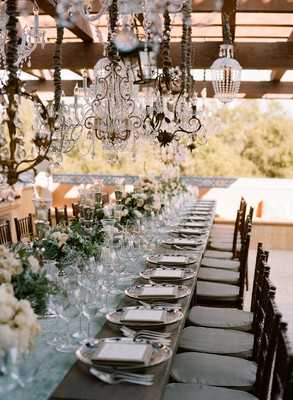 image source: French Wedding Style
image source: Brides
image source: Couture Makeup Blog
image source: Lovely Little Details
Each Tuesday  Wednesday (this week) I will be bringing you images from around the web that are focused on items you can rent from Ultrapom. I hope they demonstrate how Ultrapom can help you get the current trends for less!
– Carolyn