We have been getting quite a few requests for non-floral centerpiece options, so I thought it would be a good opportunity to do an inspiration post about some of my favorites.  It's turned into quite a doozy of a post, but it is packed with lots of information.
Often people are looking for an alternative to flowers to save some money. But if you have to buy a bunch of things to make your centerpieces, you could very easily end up not saving any money at all.  That's where we come in!  Rent items to keep from breaking the bank!
Candelabras are a classic non-floral centerpiece that had a bit of height to the table. We have this very same Gold Tone Candelabra for rent, as well as the Peg Holders to convert it told votives instead of tapers, as shown in the photo.
image source: Kay English Photography
Cylinder vases are a great base for doing all sorts of centerpiece options, from simply placing pillar candles in varying sizes of vases, to wrapping them in paper to add a bit of color.
image source: Martha Stewart Weddings
image source: Events to Celebrate
(Source metallic papers here)
Many venues don't allow open flames, so tapers are generally a no-go.  One way to get the look of a taper and still have the flame covered is to put a taper candlestick in a tall cylinder vase. (Be advised, cylinder vases are often not flat on the bottom due to the glass-blowing process. Have some blue-tack or play-doh to stick on the bottom of the candlestick to make it level and keep the candle from hitting the glass.) We have, assorted brass candlesticks and mercury glass candlesticks).
image source: Colin Cowie Weddings
image source: Green Wedding Shoes
Ostrich feathers are a great way to have high impact centerpieces without breaking the budget.  Our standard Ostrich Feather Centerpieces are on Eiffel Tower vases, but we can easily switch them out to pair the feathers with our Gold Tone Candelabra, Mercury Glass Trumpet Vase, Textured Silver Vase, or a tall Cylinder Vase. With a cylinder vase, you can fill the vase with glass stones or paper to add some color to the table.
image source: Nakai Photography

image source: Elizabeth Anne Designs
Food-laden cake stands are a great way to combine centerpieces and favors.  We have plenty of Assorted White Cake Stands!
image source: Martha Stewart Weddings
image source: Bride Canada
A cluster of taper candles is always a gorgeous option.  Brass Candlesticks and Mercury Glass Candlesticks are a great option. Again, if open flame is an issue, try putting the candlestick in a cylinder vase (if you do order from us, let us know that you plan to do this so we can pair candlesticks that work), or you can use our new flameless candles.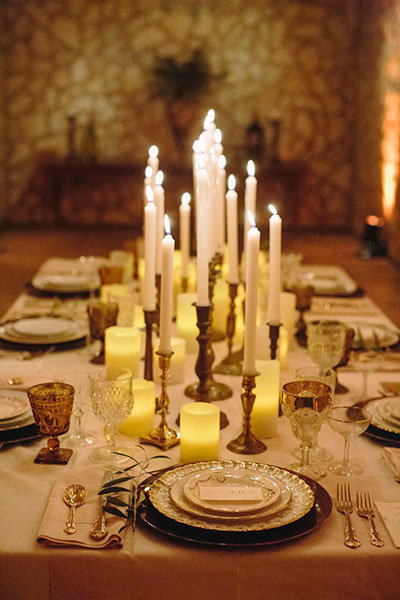 image source: Bridal Guide
image source: Wedding Obsession
Apothecary jars are great vessels for filling with colorful fruits or ornaments. We have a wide range of apothecary jars!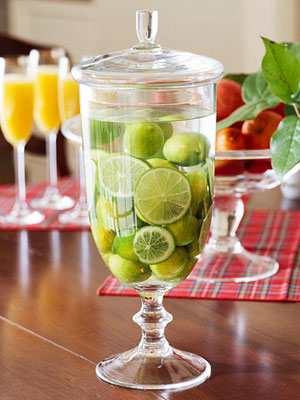 image source: Intimate Weddings